September 20, 2018 at 4:00 pm, 2 E 79th Street, New York, NY USA
http://ukrainianinstitute.org/event/unveiling-of-a-multilingual-plaque-honoring-dr-raphael-lemkin/
On Thursday, 20 September 2018 at 4:00 p.m., the Ukrainian Institute of America and the Ukrainian Canadian Civil Liberties Foundation will be unveiling a multilingual plaque (English, Ukrainian, Hebrew, Yiddish) honouring Dr Raphael Lemkin, the "father of the UN Genocide Convention," specifically in reference to the speech he gave in New York City (20 September 1953) acknowledging the famine of 1932-33 as a Soviet genocide.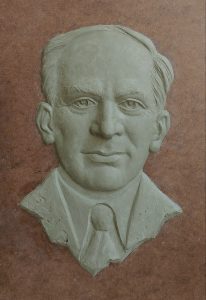 Professor Lemkin, of Polish Jewish decent, was born in what is now Belarus. His early life was marked by tragedy as his family was forced off their land during World War I, but this perhaps sparked his lifelong interest in what he termed "crime against international law" and is credited with coining the term "Genocide" from his studies of "Crimes of Barbarity". Ultimately, this led to his presentation in 1948 at the United Nations General Assembly calling for the adoption of a resolution and the formation of a "Convention for the Prevention and Punishment for the Crime of Genocide". Professor Lemkin, from an early age, studied other such crimes against humanity like the Ottoman attacks against the Armenians, anti-Semitic pogroms and other group targeted violence. He succeeded in introducing the term "Genocide" in the indictment against the Nazi Leadership as a member of the American team working on the Nuremberg trials and wrote and lectured extensively on the Holocaust and the Holodomor. His work highlighting crimes perpetrated against a captive people for the purpose of extermination and with supposed legal justification, not just the Jews, Ukrainians or Armenians, but all peoples, should not be forgotten. In fact, it is ever more poignant now as we continue to witness new human rights violations in the world today.

Event organizers: the Ukrainian Institute of America, the Ukrainian Canadian Civil Liberties Foundation, and Lubomyr Luciuk, PhD, Professor, Department of Politics and Economics, Royal Mlitary College of Canada, Kingston, Ontario, Canada.

Special thanks to the Russ Chelak, the Holodomor Research and Educational Consortium, Ihnatowycz Family Foundation, Oleh Lesiuk, Dr Eddy Portnoy, Dr Roman Serbyn, Dr. Daniel Swistel, the Temerty Family Foundation, Myroslaw Trutiak (MST Bronze Ltd), Major Michael Wiesenfeld, the late Nigel Linsan Colley, Alexandra Chyczij, Roma Lisovich and Professor Taras Hunczak.

Sponsored by the Ukrainian Canadian Civil Liberties Foundation and the Ukrainian Institute of America.